SSG5000X RF-signaaligeneraattorit.

Siglent SSG5000X RF - vektori signaaligeneraattorit 6 GHz saakka.

Siglent ei ole halvin. Siglent kilpailee laadulla ja ominaisuuksilla joita usein löytyy vasta paljon kalliimmista.



Tämä on erittäin monipuolinen korkealuokkainen RF-signaaligeneraattori ammattikäyttöön. V eli Vektori malleissa suoraan vakiona myös I-Q.


Todella katsomisen arvoinen:

The Signal Path: SG5060X-V video (korkealaatuinen youtube)

Katsaus on aivan erinomaisen ammattitaitoisesti tehty. Tekijä, Shahriar Shahramian, on RF tekniikan asiantuntija - kovan luokan ammattilainen.
( https://thesignalpath.com/blogs/ )

Videolla on esitelty myös laitteen sisäinen rakenne jokseenkin syvälle. Toki siellä on myös asioita joissa hänen meielestään olisi kohennettavaa, jonkunlaista käyttöliittymän hienosäätöä.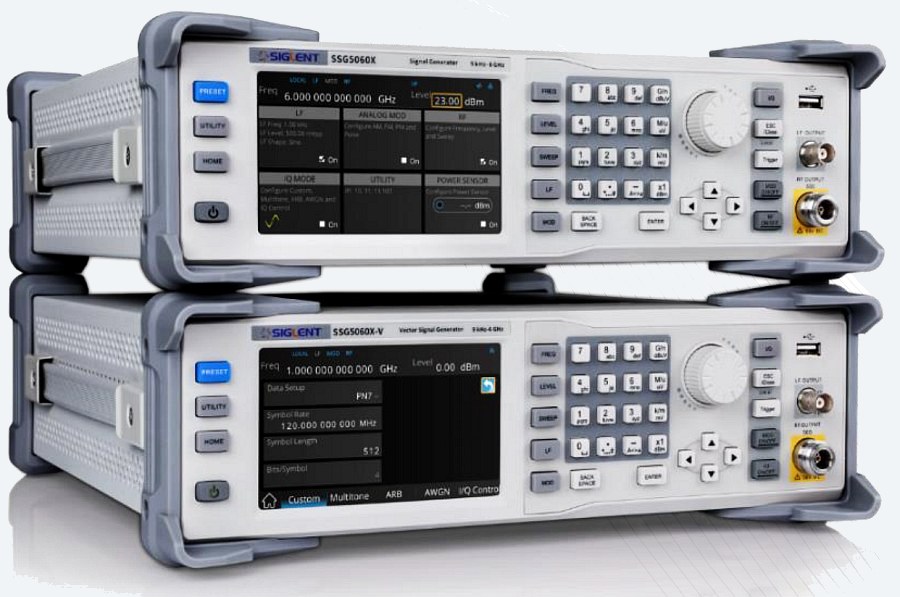 SSG5000X sarja.
Mallit:

Analog Signal Generators:
SSG5040X: 9kHz - 4 GHz
SSG5060X: 9kHz - 6 GHz

Vector Signal Generators:
SSG5040X-V 9kHz - 4 GHz ( sisältää int/ext IQ mod. 10MHz - max )
SSG5060X-V 9kHz - 6 GHz ( sisältää int/ext IQ mod. 10MHz - max )

Lisäksi saatavana joitain optioita kuten IQ taajuuslaajennus, Pulse train generator, OCXO, räkkiasennusarja, HP IP liityntä mokkula,
ouput level control with USB communication level head (Optio).


Joitain ominaisuuksia

Frequency up to 4 GHz/6 GHz
0,001 Hz frequency setting resolution
0,01 dB amplitude setting resolution
Maximum output power up to +26 dBm (typ.)
Phase Noise: -122 dBc/ Hz @ 100 MHz, 20 kHz offset (typ.)
Phase Noise: -120 dBc/ Hz @ 1 GHz, 20 kHz offset (typ.)
Phase Noise: -105 dBc/ Hz @ 6 GHz, 20 kHz offset (typ.)
User programmable flatness correction
Provides AM, FM, PM analog modulation with internal, external or Int+Ext source
Single pulse, double pulse and pulse train generator (option)
Internal IQ modulation with 150 MHz modulation bandwidth with perfect in-factory calibration
Built-in digital communication standard waveform files such as 5G-NR,LTE, WCDMA, WLAN, Blue-Tooth,CDMA
Internal Custom mode generate common IQ signals such as QAM, FSK, ASK, MSK, etc
Analog differential I/Q outputs
External analog I/Q input
Leveled power control, USB-power meter measurement (tasokontrolli suoraan tutkittavan laitteen sisäänmenosta) Optio.
5 inch TFT capacitive touch screen, mouse and keyboard supported
Web browser remote control on PC and mobile terminals
Standard interface includes USB Host, USB Device (USB TMC), LAN (VXI-11, Socket, Telnet). Optional interface: GPIB


Level control Option

Esimerkki: Ouput level control with USB communication level head. (optio)
SSG5000X Datalehti (pdf)

SSG5000X User Manual (pdf)

SSG5000X Quick Start Guide (pdf)




--» Ylös

--» RF-signaaligeneraattorit

--» Etusivulle - Home